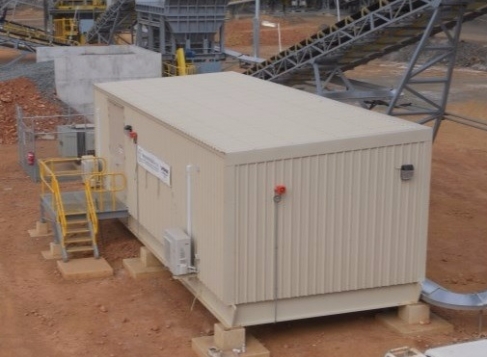 Switchrooms
With remote site access in some parts of the world being constrained by geography, access roads provide limitations to equipment sizes and shipping considerations start to have a real impact on achieving a successful project delivery. In response, Como Engineers has eveloped a MODULAR Switch Room design which can be flat packed into containers and reassembled quickly and easily on site.
Built to 2 hour fire ratings as standard with the option of other certification, the systems are pre-assembled for quality checking and can be installed with a range of equipment, including fire retarding systems & monitoring alarms, air-conditioning units, a range of
lighting and we can even deliver the motor control centers (MCC's). Walls can be specified as urethane insulated or a combination of compressed fibreboard/rockwool. Cladding is standard powder coated steel or stainless can be supplied. Delivered in 40' or 20' open top containers.